The Smile Portrait Competition is here! What is this competition, you ask?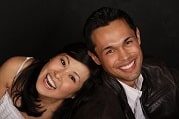 This is an opportunity for our members to show off the glitz and glam of their profession. We want to see the drama. We want to see the excitement. We want to see how glamorous and confident your patients look and feel after having their smiles designed by an AACD member dental professional. Get ready to show off your work!
(Photo by David K. Chan, DMD, AAACD)
The American Academy of Cosmetic Dentistry takes pride in our ability to advance the art and science of comprehensive esthetic and restorative dentistry, but beyond that, we have some amazingly creative dentists and laboratory technicians in our midst and this is their opportunity to showcase some of their dental art and portrait photography.
 
Anyone can vote in the 1st round!
Winners will be announced on April 16th, 2021, via a virtual event hosted by the AACD. Winners will receive public recognition and a glass trophy. 
What should you submit?
Competition entries will require submission of high-resolution quality portraits or artistic smile images with a selective focus on the smile to showcase the clinical work.  At least 4 anterior restorations are required to be eligible for the portrait competition. Please note that this competition does not follow the format of previous competitions.
What should you do after you submit?
This unique competition portal will allow participants to share their entries on social media sites such as Facebook, Twitter, Linkedin, and Instagram.  Members are encouraged to email their friends, family, and patients to encourage viewing, voting, and discussions about their submissions.  
2021 Competition Timeline
December 25th, 2020 - Accepting Submissions
March 12th, 2021 - Submission Deadline
March 15th, 2021 - Voting Begins!
Once your entry has been approved, the public can start voting for your entry! So spread the word!
April 14th, 2021 - Voting Ends
April 23rd, 2021 - Winners Announced and Awarded 
Award Categories
Portraits
(Photo by David K. Chan, DMD, AAACD)
Rising Stars

 - AACD members/students/residents/lab technicians who have been 10 years or less out of dental school/technician school.
 
The winner will be the entry that has the most votes by the public.  
Smile Design Aficionados - AACD dentists and technicians that have been in the profession for more than 10 years.
The winner will be the entry that has the most votes by the public.
Smile Art
(Photo by Cuong To)
Please Note - We understand that art is subjective, but because the AACD represents the Give Back a Smile program and raises awareness about domestic and sexual violence, it is at the discretion of the approval committee to decline photos that may trigger traumatic responses among domestic abuse survivors. Please present your art in good taste and do not submit anything that could be considered overly sexualized or violent.
People's Choice Smile Art Award
The winner will be the entry that has the most votes by the Public for being the most artistic composition during the first round of voting. This category explores the creative display of dental art in the smile with a portrait and/or closeup of the smile. 
Please send all questions regarding this competition to aacdsmileportraitcompetition@gmail.com or use the Contact Us section at the bottom of the Smile Portrait Competition portal.
Thank you to our Competition Sponsors