Howdy y'all. This is Greg Wright, your AACD President Elect. But from now until our Annual Scientific Session, AACD 2023 Texas, I will also serve as your unofficial concierge to the area. You see, I've been a resident of the Grapevine, Texas, area since 1988. I know you're excited about coming to our conference next April, but I also want you to be excited about coming to Texas as a destination. Over the next few months, I'm gonna make it my job to share with you some local knowledge of things that you might want to check into while you are here.
Today we are going to talk about barbecue. Texans are passionate about their barbecue. Our state magazine, Texas Monthly, even has a dedicated BBQ editor and every couple of years publishes its top 50 barbecue restaurants in the state. We take our barbecue seriously! There are several notable barbecue venues in the Dallas-Fort Worth area, but we're going to start with one by Dallas Love Field.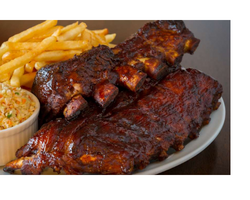 For those of you who are flying Southwest Airlines and arriving hungry, skip the airport food! At the only exit of the airport, to your left you will see Heim BBQ. Heim originated in a food truck in Fort Worth but now has several locations. Heim in Fort Worth is a Top 10, and this would be a good place to get your "feet wet" and satisfy that hunger. Are you flying into DFW International and just want to get into Grapevine? Two establishments await! Bartley's BBQ is located about two miles from the Gaylord Texan, our host venue. The other is Meat U Anywhere, a little further down the road. I've eaten at both many times, and both are top notch.
If you're really into barbecue and interested in some of the state's best, you might try Pecan Lodge (BBQ heaven) or Lockhart's, both in Dallas. In Fort Worth you have Goldie's (current #1), Panther City, and Dayne's. There are many, many more, and we just don't have the time. But I promise, all the above will not disappoint. 
Happy eating! And grab some extra napkins!
Greg