Since 1999, the AACD Charitable Foundation's Give Back a Smile (GBAS) program has connected adult survivors of domestic/sexual violence with dental injuries to volunteer cosmetic dentists who restore their smiles free of charge. Join us at AACD 2024 National Harbor, April 3-6 held at Gaylord National, to celebrate 25 years of restoring smiles and lives! Attendees will find numerous ways to commemorate this significant anniversary while contributing to GBAS, ensuring our vital mission can continue in helping survivors of domestic/sexual violence.
Give Back a Smile's 25th Anniversary Fundraising Event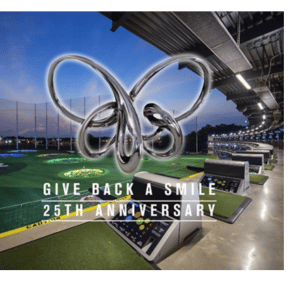 Get ready for an unforgettable evening of fun, philanthropy, and festivities as we celebrate a remarkable milestone: Give Back a Smile's 25th Anniversary! You could be a part of this special occasion at TopGolf National Harbor on Thursday, April 4 from 7:00 – 10:00 pm. TopGolf offers a fun-filled experience for both seasoned golfers and those who've never picked up a golf club before. Celebrate with fellow Give Back a Smile supporters with an open bar, food, and a reserved hitting bay for three hours of unlimited golf. This event is expected to sell out, so make sure you register for the conference now! Tickets will be available soon through the registration site. Event proceeds ensure Give Back a Smile can continue to rebuild the smiles and lives of adults who have suffered dental injuries from domestic violence.
Transportation is included with your ticket.
Other Impact Ways to Support GBAS at AACD 2024
Charity Auction
Get great deals on dental products/services or be the highest bidder on an amazing vacation. Mobile bidding opens on March 15 and ends on April 5. The auction items will be on display at AACD 2024 at the Give Back a Smile Booth.
We need donated auction items! Do you have something to donate to the auction? Click here.
Swag for Smiles
Give Back a Smile will be accepting donations for must-have swag at the Give Back a Smile Booth, ranging from t-shirts and water bottles to pashminas, perfect for keeping you warm in the chilly meeting rooms.
Give Back a Smile also has numerous sponsorship opportunities for any budget. Contact Lisa Fitch for more information. 
Not registered for AACD 2024 National Harbor yet? Register now.