By Michael Vilardi, Director of Business Development, Dear Doctor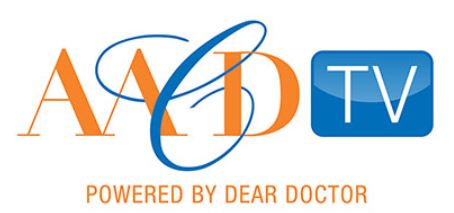 Available only to AACD members, AACD TV is a new patient-education and marketing television product for cosmetic dentistry practices. Powered by Dear Doctor, the leading producer of dental patient-education media, AACD TV features high-quality video content to enhance patient understanding of cosmetic dentistry treatments. Now you can put your office televisions to work to increase inquiries and boost case acceptance.

Here are three ways you can take advantage of AACD TV to help grow your practice:
†
† † 1. Showcase your best work.
We know youíre changing lives through the work you do. Cosmetic dental treatmentsóboth big and smallócan result in huge gains in a patientís self-confidence. And before-and-after photos of these life-changing transformations are the best advertisement you could ask for. With AACD TV, itís easy to incorporate your case photos into the broadcast so every person who walks through your door can see these powerful testimonials of your skill as a cosmetic dentist! Not only will current patients feel more confident about moving forward with treatment, they are likely to tell their friends about the results you can achieve.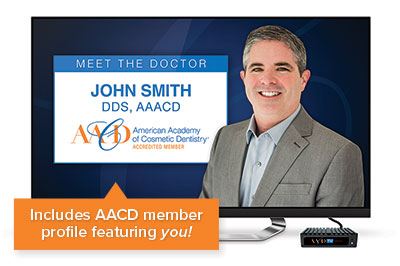 † † 2. Reassure patients they are in good hands with an AACD-member dentist.
Make patients aware of the AACD difference! Youíve worked hard to attain a high level of skill as a cosmetic dentist. And you care enough about your profession to be a member of the premier organization dedicated to advancing excellence in cosmetic dentistry. Let AACD TV relate this to your patients so they know that theyíre in good hands with an AACD-member dentist. Included with your subscription is your own AACD doctor profile, which rotates into your broadcast. To further enhance credibility, the broadcast includes a short video about why patients should feel more confident about trusting their smile to an AACD-member dentist.
†

† † † 3. Use AACD TV to market your practice.
Make AACD TV your own marketing tool! Showcase stellar patient reviews, promote special offers, and encourage guests to refer friends and family. You can include an office tour or video messages from doctors or staff to reinforce the connections patients have made with members of your team. With AACD TV, itís easy to add your own content. Simply add any video or PowerPoint file to our upload tool and the Dear Doctor support team will take care of the rest. You can specify a start and end time, so any video you provide will run only as long as you wish.


AACD TV is like having your very own cosmetic dentistry channel. For more information, call (877) 957-8188 or click here for more information.