AACD Annual Scientific Session
---
Every year the AACD chooses a new, exciting, location and hosts a conference where dental professionals from around the globe come together to participate in hands-on workshops, lectures, general session and social networking events. Conference attendees will learn about the latest tech and trends from exhibitors that are industry-leading dental companies. This event gives dental professionals an opportunity to build on what they know, master the latest techniques, and learn about the benefits and resources the AACD has to offer dental professionals of all experience levels. 
---
---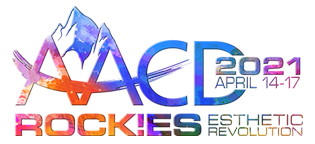 AACD 2021 Rockies Esthetic Revolution promises everything you love about AACD's scientific session: hands-on workshops, visionary clinical lectures from the industry's finest educators, sessions focusing on Accreditation, inspiring headline presentations, and opportunities to climb higher as you further develop your personal network or revolutionary expertise in cosmetic dentistry.
Mark your Calendars
Join us April 14-17, 2021 all under one roof, at the stunning Gaylord Rockies in beautiful Aurora, Colorado.
Click here, to view the
AACD 2021 Rockies 
Preliminary Guide
Sweeping vistas and elite education, all at the industry's best price. This will be one conference you won't want to miss in 2021! Fulfill your CE requirements in three days and begin using the implementable skills you gain here as soon as you return to the office. Reach the peak of the esthetic dentistry when you join the esthetic revolution by attending Rockies 2021.
---
---
Join us as an Exhibitor or Sponsor at AACD 2021
Connect, showcase, and reinforce your position as an industry leader. 
Exhibit at AACD 2021 Rockies
Increase your exposure at the AACD 2021 Scientific Session. A wide range of opportunities include
new, economical
6' skirted tabletop exhibits, sponsorships, and digital advertising opportunities. Learn more in our 2021
Exhibitor Prospectus. 
Register for your Table Top Exhibit Here.
Sponsor a Workshop at AACD 2021 Rockies
Click here to download the application form.
 

*Looking to SAVE on your Table Top Exhibit and take advantage of complimentary 2021 Scientific Session additions like an e-Prelim Guide Ad and Mobile App Notification? Become a Gold Corporate Member today.

For more information on exhibitor or sponsor opportunities, contact Erica Meganck, Business Development Manager.