Did you know you have access to an entire curriculum of Accreditation courses, workshops, and lectures on AACD CEntral online learning platform? AACD's online Credentialing Curriculum includes the courses and workshops you need to begin or continue your Accreditation and Fellowship journey, including: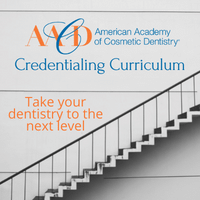 Accreditation and Criteria Workshops
Advanced Accreditation Workshop
Fellowship Workshop for Accredited Members
Photography courses for Accreditation Documentation
Courses and lectures on all five case types
And more
A strong clinical knowledge of the case types, photography, lab and dentist communication, and process management are essential to your success, so log in to AACD CEntral's Credentialing Curriculum space today to begin, or continue, your journey to excellence. Earn CE and take your dentistry to the next level!