It's no secret that 2020 brought us many challenges to overcome. With 2021 right around the corner, it's the perfect time to reevaluate, adjust, and implement new strategies in your practice to help you take on the new year by storm and leave nothing on the table.
Being advocates of all developments surrounding digital dentistry we would like to reinforce the importance of using digital tools to help you bring confidence into your patient's treatment plan to reassure a predictable outcome.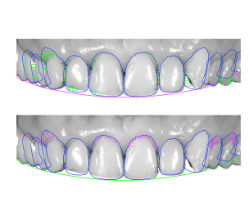 As digital dentistry evolves, multidisciplinary dental treatment can now allow the patient to give their input on the final aesthetic result before starting the treatment.
DSDApp is a tool that strengthens the diagnostic view and improves communication and predictability during treatment by using a simplified junction of a photo and intraoral scan protocol. It allows the dentist to go beyond and be the creator of 3D printable mock-ups to test it in the patient's mouth, in addition to using them as a guide tool for aesthetic procedures.
This process can be a true game changer in your practice and make all the difference in whether or not your patient accepts the treatment. 
Dr. Diogo Alves, DDS, and Carmina Braicau, CDT dive into chairside 3D design and 3D printing:
Create a facially-driven, natural-looking Smile Design in a few seconds to motivate your patients and initiate your treatment plan based on your patient's final esthetic desires. 
Proceed with the digital treatment planning and 3D smile design
Test-drive the new smile in the patient's mouth with a traditional mock-up or shells, proceed with the preparation guide mockups, and/or manufacture the final restorations.
If ever there was a time to go the extra mile it is now. Watch this short webinar to learn how you can offer this service in your practice! https://youtu.be/f01djjJEXfc
Expedite your learning curve and get 20% off the Smile Designer Certification course starting this coming January!