By Robert Kreyer CDT, Director of Removable Prosthodontic Platforms, MicroDental Laboratories
Technical treatment planning is a preliminary procedure that demands clinical and technical communication and collaboration. This collaborative analysis of the acquired Intra-oral scan data of terminal dentition and soft tissue anatomy is critical to achieving a successful prosthetic outcome. Complete digital denture prosthetics should be treatment-planned and designed to replace lost bone, tissue, and dentition while restoring function, aesthetics, and phonetics. Establishing a definitive digital technical treatment plan with case sequencing procedures and appointments creates predictable success with complete prosthetics. 

The prosthetic plan for the presented case is to extract the remaining terminal dentition and then place implants for maxillary and mandibular implant-supported prostheses. This blog offers a unique way to plan prosthetic cases from an Intra-oral scan using STL design files to improve case presentation and communication between dentist and patient.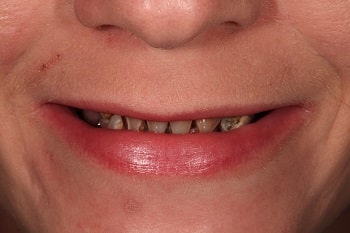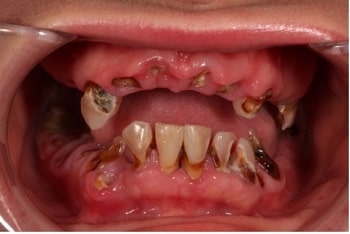 Prosthetic Problem:
Decreased Vertical Dimension of Occlusion due to missing maxillary and mandibular anterior and posterior teeth
Missing anterior maxillary teeth eliminate a reference for tooth size and placement
A bite scan is taken in centric occlusion at the collapsed vertical dimension of occlusion
Patient Desires Maxillary and Mandibular Implant-Supported Prostheses
Prosthetic Variables:
Vertical Dimension of Occlusion
Maxillary and mandibular relationship
Incisal edge position
Prosthetic space
Implant placement 
Prosthetic Design Solutions:
Increase VDO to an average of 42mm intra-vestibular 
Reduce maxillary and mandibular residual ridges by 4mm anterior and 3mm posterior
Arrange teeth using existing terminal dentition as reference for tooth placement in design for immediate conversion denture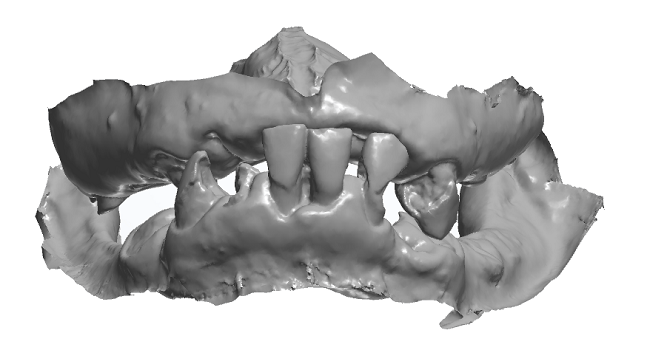 The Intra-Oral Scans are received then data is analyzed for the following:
Soft-tissue anatomy
Maxillo-mandibular ridge relationship
Prosthetic Space
Terminal dentition
Bone height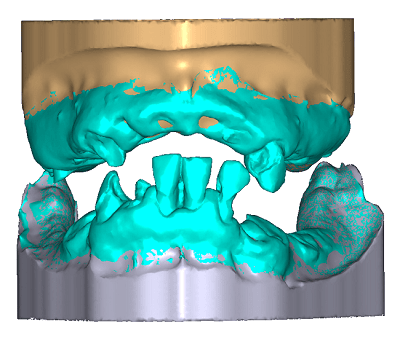 The Prosthetic space analysis evaluates the Vertical Dimension of Occlusion, or intra-residual space, to provide adequate space for the definitive digital prosthesis. When re-establishing the VDO or prosthetic space, increase the intra-residual ridge space to allow for the design of the acrylic-resin base, implant bar, and denture teeth. According to the intra-vestibular measurement of scans, increase the 28.49 mm bite scan to at least 40mm. In design, a requested increase of 12.50 mm, will provide a 41 mm intra-vestibular ridge relationship.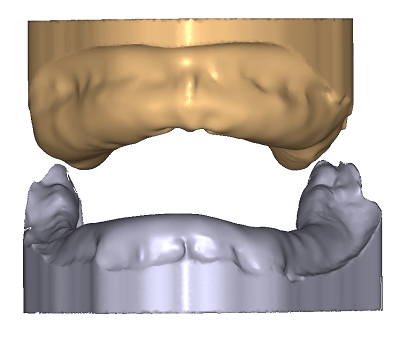 In design, build model bases (maxillary gold and mandibular silver) to Intra-Oral Scan STL files (green).To ensure proper registration between the base and scan, the speckled areas are visible on residual ridges illustrating a good match between data in the scan and base.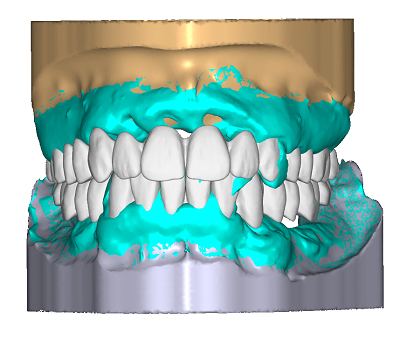 The terminal dentition is virtually extracted with a 4mm anterior and 3mm posterior tissue and bone reduction to create prosthetic space within the intra-residual ridge relationship. For implant-supported prosthetics case planning, factor a 15mm per arch from ridge crest to incisal edge into the design.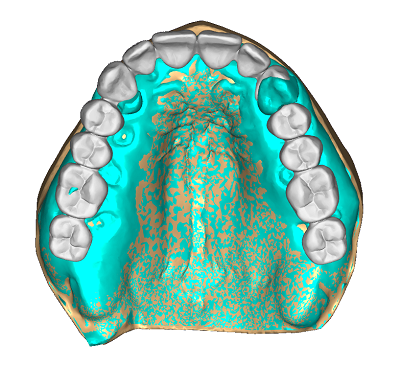 The denture tooth mold is selected then teeth are arranged using terminal dentition (green) and anatomical soft tissue landmarks as a reference or guide for placement of prosthetic tooth arrangement.
Looking at the maxillary arch from the occlusal perspective, the denture tooth (white) position can be evaluated in relation to the residual ridge and terminal dentition reference (green). Note the relationship of canine to clinical crown and roots providing symmetry in design for an esthetic and functional arrangement.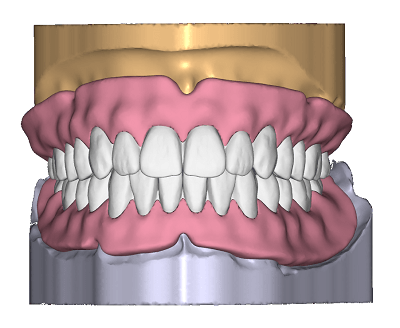 The mandibular arch from an occlusal perspective shows the relationship of posterior denture teeth (white) to the residual ridge crest and terminal dentition reference (green). The middle is maintained and used for maxillary arch anterior tooth arrangement.
 
Denture bases are built-in designs with proper gingival contours for margins, interdental papillae, festooning, and border extensions.
For more information on this unique digital workflow, contact customer service at MicroDental Laboratories.