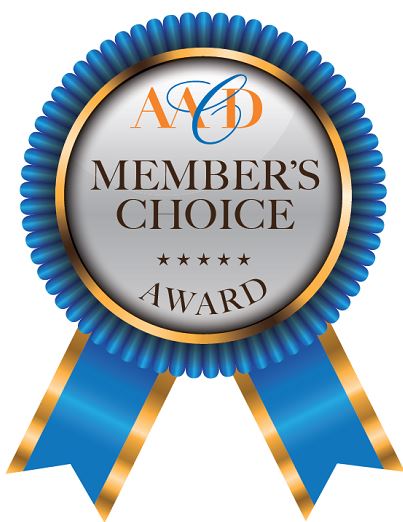 Our AACD 2020 Member's Choice Awards winners have been announced! 
The American Academy of Cosmetic Dentistry asked a panel of industry-leading dental professionals to pick their #1 can't-live-without product and have awarded the winning product's AACD Member's Choice Awards.
These awards will be given to the winners at our next AACD Annual Scientific Session in Aurora, Colorado for AACD 2021 Rockies, but in the meantime, please join us in congratulating and thanking the winning companies for their innovative and highly desired products! 
See which products these 13 dental experts can't live without!
Congratulations to all 13 winners!
Experts
Company
Product Winner

Dr. John Weston
Scripps Center for Dental Care

               

RelyX Unicem 2 & Scotchbond Universal Adhesive

Nelson Rego, CDT
Smile Design by Rego

iTero Element

Dr. Marshall Hanson
Villa Dental

 

 

 

 

Feather Lite Composite Polisher

Dr. Clarence Tam
Tam Dental Group




Composi-tight 3D XR and 3D Fusion FX400

Dr. Corky Willhite
Smile Design Center

 

 

 

 

Renamel Microhybrid Composite & Flexidisks

Dr. David Chan
Northwest Smile Designs

ASAP Polishers

Dr. Wynn Okuda
Wynn H. Okuda DMD, Inc.

G-aenial Universal Injectable

Dr. Adamo Notarantonio
Huntington Bay Dental

 





 

Rubber Dam Clamps

Matt Roberts, CDT
CMR Dental Lab


 

IPS e.max ZirCAD MT Multi

Dr. Ed Lowe
The Lowe Centre

 

 

 

Uniforms

Dr. Amanda Seay
Dr. Amanda Seay

 

 

 

 

Canon 5D Mark IV

Dr. Laura Justice
Justice Dental

 

Emerald Scanner and Mill

Dr. Tara Hardin
Hardin Dental

 

 

 

 

Wedge Guards