You may not have read the 2007 study at the University of Bordeaux titled Intense Sweetness Surpasses Cocaine Reward but the findings were predictable. Sugar is more addictive than cocaine. Who, better to help clean up the streets after Halloween than you, the local dentist.
And guess what? There is a simple way to get involved, download the complimentary sweet swap candy campaign and trade prizes for excess Halloween candy.
How Does A Sweet Swap Campaign Work?
There are 3 simple steps to running the campaign, decide on a prize, promote the campaign, and donate the candy.
Let's take a look at each step.
Decide On A Sweet Swap Prize
What prize is good enough to get the child to let go of their excess candy, other than more candy?
You'll have to do a bit of brainstorming but here are a few of the ideas that most practices have decided to go with:
Entries into a drawing for a big prize (a new bike or gaming gear)
Cash! A dollar (or five) for every pound of candy
Coupons to local businesses that want to partner with your practice
Movie tickets
Oral hygiene kits
Electric toothbrushes
Xylitol products
Pro Marketing Tip: When they bring their candy into the office make sure to get a photo and post it to your social media accounts using the hashtag #sweetswap. Here is a link to a free patient HIPAA consent form if you don't already have one.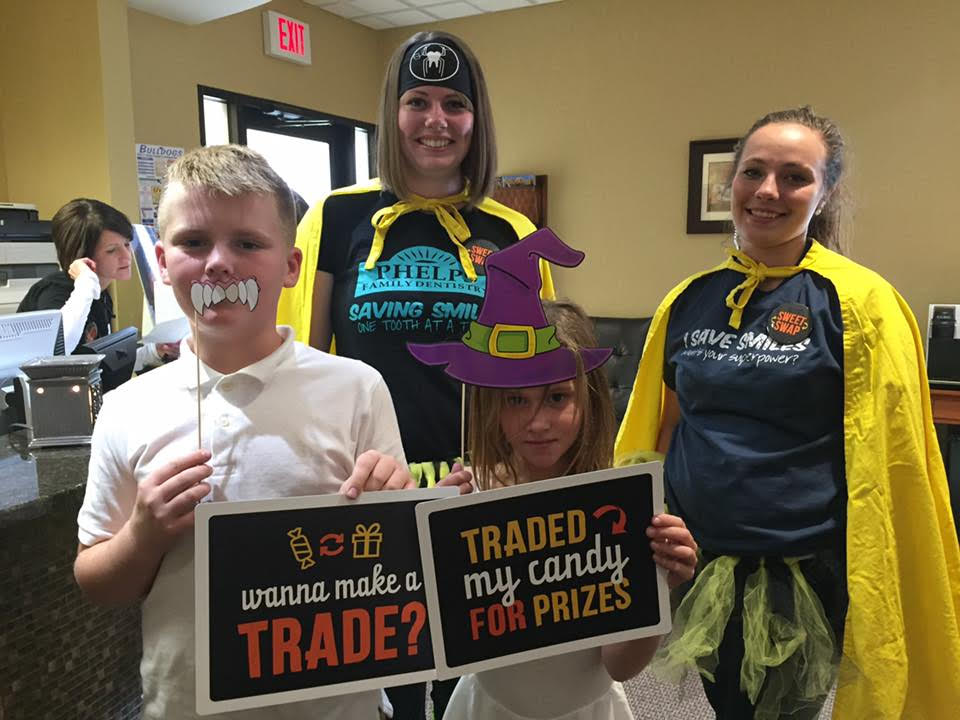 Promote The Sweet Swap Campaign
We've developed all of the marketing materials that you'll need to run the campaign. All you need to do is download and have them printed at a local print shop.
Included in the campaign are print materials, a poster and social signs. There are also social media graphics to help promote the campaign on your social media accounts.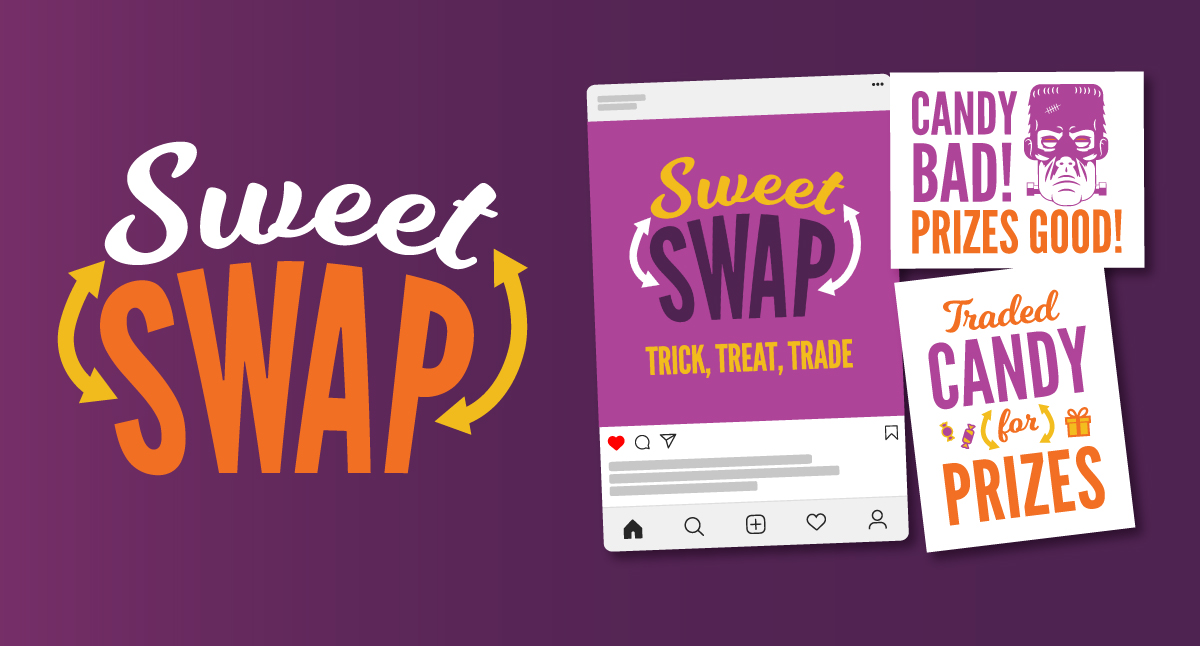 Another very important strategy to promote the campaign is to write a short announcement article and send it out to your patients via email. And if your website has a blog you should also post it there.
Pro Marketing Tip: Once the campaign is over download the photos and add them to your website. You can have your dental website designer create a page on your site titled "Community Engagement" or "Holiday Events". On that page you can continue to add events or local projects that you get involved with.
A great example of adding community involvement is this pediatric dental practice in Louisville and Westminster CO. They created a gallery page on their site of all the local events they get involved with.
Donate Your Collected Candy
We recommend sending your collected candy to a local company that accepts donations or a 501c3 organization that enables your practice to write off expenses. Please speak with an accountant about the tax benefits of running a Sweet Swap.
The 501(c)3 organization that we recommend is Move America Forward which is an organization that distributes candy to US troops stationed around the world via care packages.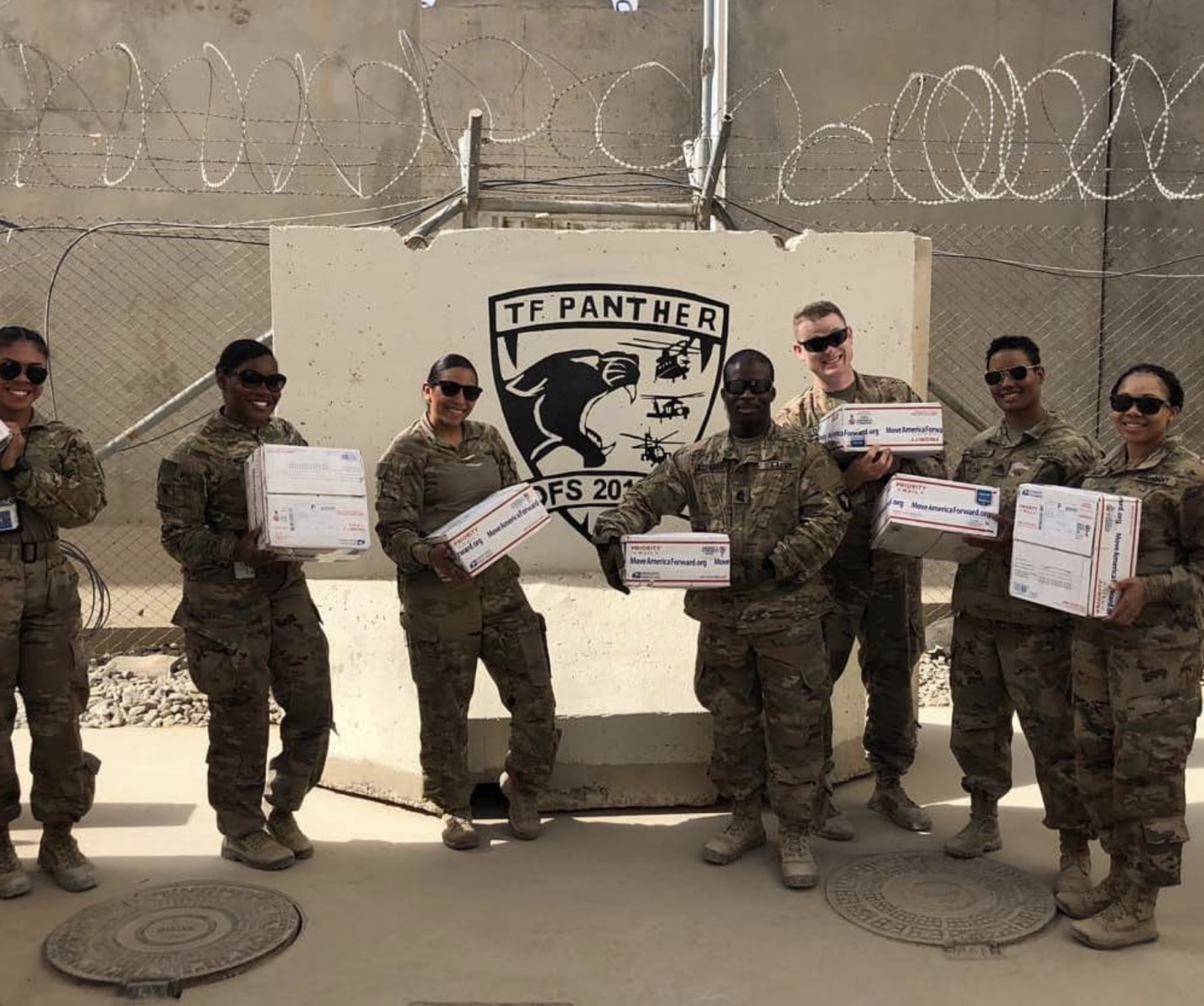 I had the opportunity to speak with the director of the program Scott and he said that they easily collect 20-30 tons of candy each year that is then shipped out to the troops. When sending the candy you just box it up and send it to Scott's team. No need to weigh the candy or sort it out, his team gets the job done.
One suggestion that he made was to have the children include a note to the troops. Notes from children are appreciated and if the parents of the children agree to include their addresses the troops will write back, which is a great way for kids to get involved in supporting the troops.
Conclusion
Well, there you go folks! Everything you need to turn Halloween into a creative dental marketing opportunity. 
About The Author: Adrian Lefler is a dental marketing expert and the Vice President of My Social Practice. He lives in Draper, Utah, with his 4 super snarky kids, professional chef spouse, one awesome dog, and one dumb dog.