by Devin McClintock, DDS
When I joined the AACD straight after dental school, my focus was on improving efficient and reliable restorative outcomes for both direct and indirect restorations. That is still my focus today, and the reason I created the course, "Maximizing Bonding Success with Rubber Dams," for the AACD, now available to AACD members on CEntral online learning portal.
If you are ready to recap the significance of the rubber dam and its role in direct and indirect preparations, composite placement, esthetics, and cementation and discuss the benefits of composite mock-ups for predictable esthetic outcomes for anterior composite restorations, then this course is for you!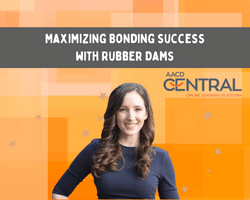 My goals for you are three-fold:
Learn to to properly apply a rubber dam using several different techniques to improve isolation for restorative procedures.

Address how to quickly and accurately mock-up an anterior tooth to achieve better shade made with composite restorations.

Review how to properly prepare and cement porcelain restorations with reliable protocols for long-term success.
Not an AACD member yet? See what all the fuss is about.