by Frank Milnar, DDS, AAACD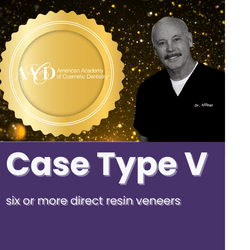 Candidates pursuing Accreditation must demonstrate clinical excellence and knowledge of the five required case types. Case Type V represents the greatest opportunity to comprehend tooth morphology, case selection, preparation, anatomical layering and hand polishing of the composite resin.
My new course on AACD CEntral is ideal for those Accreditation candidates who have not attempted or are in the early phases of Case Type V treatments. Esthetic essentials and foundational information will be discussed in order to de-mystify the complexity of restoring six maxillary composite veneers.
By taking this course on CEntral, you will:
Learn smile design concepts that create natural esthetics for AACD Accreditation standards
Discuss and grasp the criteria of Case Type V essentials
Review how to handle composites, anatomical layering, finishing, polishing, and proper surface texture
Earn 1 CEU
So AACD members, log in and start learning today. Click here to take Case Type V: Six or More Direct Resin Veneers. 
Not a member yet? See what you're missing.