By Lisa Fitch, CAE, Director of AACD Charitable Foundation
October is Domestic Violence Awareness Month. It's a time to remember those who've lost their lives because of domestic violence, celebrate those who've survived, educate the public about this serious social issue, and reinvigorate efforts to end violence.
The Facts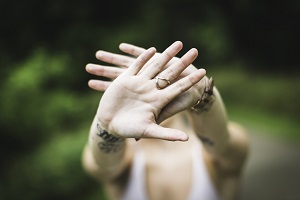 Domestic violence can be a tough topic to talk about. The unfortunate reality is that there is a good chance that you know someone who has experienced it or that it has even occurred under your own roof. Domestic violence affects both women and men and is pervasive across all races, ethnicities, educational levels, sexual orientation and socioeconomic statuses. In the United States, one in four women will experience physical violence at the hands of an intimate partner in their lifetime. That means on average, every minute, nearly 20 people are physically assaulted (source: National Coalition Against Domestic Violence).
"In the United States, one in four women will experience physical violence at the hands of an intimate partner in their lifetime."
Domestic Violence is About Control
Contrary to popular belief, someone doesn't become violent out of frustration or anger or even because they had too much to drink. Domestic violence is a conscious decision to maintain power and control over another person. It includes physical violence, sexual violence, psychological violence, and emotional abuse. Each abusive relationship may be different, but in every case, varying tactics such as intimidation, emotional abuse, and isolation are used by abusers to gain and maintain power and control over the victim.
Lynnette's Story

Lynnette's whole life changed on May 30, 2016. She should have been celebrating her 3rd wedding anniversary, but instead, she was living a nightmare. That night, her husband was out getting high while she was asleep in bed. When he came back home, he went into Lynnette's room and started beating her in the head with a hammer. He raped Lynnette and then he tied up her 13-year-old daughter in the basement and raped her. Luckily, her daughter was able to escape and go to the neighbor's house. Lynnette was in a coma. She had surgery to replace part of her skull and suffered a traumatic brain injury. After being in the hospital for over a month she was transferred to a rehab center. She got connected with a counselor and doctor to help with the emotional trauma she went through and with her mental health issues. Her counselor helped her find the Give Back a Smile program and together they filled out an application. She qualified for Give Back a Smile and was matched with Dr. Michael Weiss, in November 2018. She describes her experience with Dr. Weiss as excellent. He helped completely restore her beautiful smile and helped build up her confidence.
Give Back a Smile Heals Effects of Domestic Violence
Around 75% of physical assaults are to the head, neck and mouth areas (source: "Enhancing Dental Professionals Response to Intimate Partner Violence"), which result in a great deal of dental injuries. Bruises and scars fade, but broken and missing teeth cannot repair themselves. So the AACD Charitable Foundation (AACDCF) focuses its efforts on restoring the smiles -- and lives -- of survivors of domestic and sexual violence whose oral health have been affected by the abuse.
Since the inception of the AACDCF's Give Back a Smile program, more than 1,800 survivors of domestic violence have received life-changing smile restorations all across the United States. There are currently 110 people receiving care through Give Back a Smile located in 33 different states.
How You Can Help in October and All Year Round
Openly talk about the issue
Help decrease the stigmas related to domestic violence. Learn the facts and openly talk about it.

Wear purple in October to increase awareness of domestic violence
Purple is the official color of domestic violence and symbolizes peace, courage, survival, honor and dedication to ending violence.

Contact your local domestic violence agency and ask how you can help
Find an agency near you, www.domesticshelters.org

Invest in restoring smiles
Make a financial contribution to the AACD Charitable Foundation.

And if you're a dentist or lab technician:
Restore the smile of a survivor of domestic violence
Sign up to become a GBAS volunteer

Follow Give Back a Smile on social media: Facebook, Instagram
Click here to learn more about the AACD Charitable Foundation's Give Back a Smile program.