By Hanno Venter, BDS, FICOI
Restoring a single central incisor is one of the most demanding esthetic challenges a dentist can face. The central incisors represent the focal point of the esthetic zone, and even minor asymmetries in form or shade match can lead to an esthetic failure. Additionally, as a result of patients' esthetic expectations today, the pressure to recreate nature is high. However, with thorough planning, clinical skills, knowledge of dental materials, and collaboration with a skilled technician, practitioners can achieve a beautiful dental result in these demanding cases. In my Accreditation Essentials article titled "The Challenges of Restoring a Single Central Incisor" (JCD Winter 2019, Volume 34, Number 4), I describe the steps I take to meet this challenge in a detailed case report.
"As a result of patients'esthetic expectations today, the pressure to recreate nature is high."
Case Presentation
In this case, a 48-year-old female presented for treatment wishing to replace a Class IV composite restoration on tooth #9, a restoration which had already been replaced a few times previously. Patients presenting for retreatment may have established opinions based on their past treatment experiences that further challenge the clinician's current treatment options. In this case, while composite resin was a viable option for retreatment, the patient rejected the material on the basis of past negative experiences with composite due to how previous restorations tended to discolor and wear at a different rate than the surrounding dentition (Figs 1 & 2). Instead, the patient preferred porcelain with at least full buccal coverage.


Treatment Options
Other than some signs of incisal enamel wear, most of the tooth structure was intact and undamaged, so a minimally invasive laminate porcelain veneer that would wrap around the incisal edge was proposed. For this, IPS e.max lithium disilicate (Ivoclar Vivadent; Amherst, NY) was selected. This material selection would allow me to meet the patient's esthetic demands due to its excellent light optical properties, which would address the flat appearance of the old composite restoration; its strength, which would address the unequal incisal wearing and chipping; and its translucency, which would provide a lifelike appearance able to blend seamlessly with the surrounding dentition.
Treatment
In addition to alginate impressions, the AACD's required 12 preoperative photographs were taken and sent to the dental technician for shade and texture communication. Digital photography is an excellent communication and diagnostic tool in determining surface texture and all the nuances present in adjacent tooth structure we see when observing a restored tooth. It also helps with relaying line angles by means of light reflection (Figs 3 & 4).  




As an added precaution, the proposed final veneer (e.max lithium disilicate shade B1 HT) was tried in using clear try-in paste (Panavia V5, Kuraray Noritake) prior to the final characterization, glazing, and staining. This allowed me to ensure that the hue, chroma, and value, as well as the shape and line angles, were correct and met the patient's esthetic expectations before the dental technician finalized the veneer's characterization. While this step may not always be possible, it can better facilitate patient acceptance of the final restoration and minimize the time spent by the dental technician remaking the restoration if it fails to meet clinical expectations.

The appearance of the final laminate veneer (Figs 5 & 6) demonstrates a hue, chroma, and value that match tooth #8 and a dimensional, natural appearance that integrates nicely with the rest of the natural dentition. The result is a restoration that meets both the esthetic and functional needs of the patient.  


Summary 
Delivering a single anterior restoration that mimics nature can be a significant challenge, but with the many diagnostic and planning tools in modern dentistry at our disposal, it has become a more predictable procedure. With the careful selection of materials, it is possible to deliver an esthetically pleasing restoration to a very satisfied patient (Figs 7-9).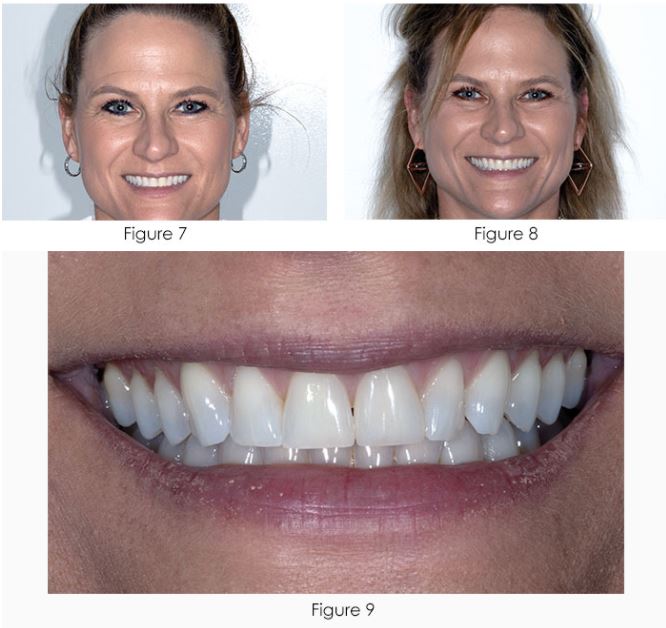 For a full description and discussion of each step of this case, view the case report by Dr. Hanno Venter in JCD Winter 2019, Volume 34, Number 4 here.

***

This case is an example of a passed AACD Accreditation Case Type II- One or Two Indirect Restorations, which challenges the clinician and the laboratory technician to match the restorations to the natural dentition, a situation frequently encountered in daily practice; as well as their ability to work together successfully to communicate the various micro-esthetic issues such as shade, incisal translucency, and surface texture.

Accreditation serves to set standards for excellence in cosmetic dentistry. Achieving Accredited status from the AACD requires dedication to continuing education, careful adherence to the protocols and a resolve to produce exceptional dentistry.

AACD Accreditation is where you can achieve your full potential. Start the journey today. Inquire at credentialing@aacd.com.