Becoming an Accredited Fellow member in the AACD is the highest level of achievement obtainable within the Academy. In addition to meeting the rigorous requirements of an Accredited Member, an Accredited Fellow has successfully completed cosmetic dentistry that meets the Accreditation standard of excellence set forth by the American Board of Cosmetic Dentistry for an additional 45 patients. By successfully completing this process, an Accredited Fellow demonstrates a continued ability and sustained commitment to deliver excellence in cosmetic dentistry. 
Today, we are excited to announce and congratulate our two newest AACD Accredited Fellow members:
Michael Karlsten, DDS, FAACD
Member since 2000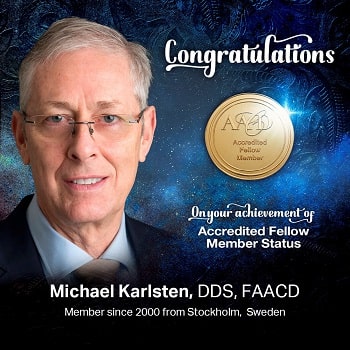 Michael Karlsten, DDS, FAACD, graduated from Karolinska Institutet in Stockholm, Sweden in 1980. Today, he works at Dentalakademin in Stockholm, exclusively in esthetic and functional dentistry. He became a member of AACD in 2000 and was really impressed with the results presented and wanted to learn more from the very best dentists. In 2002, Dr. Karlsten co-founded the Swedish Academy of Cosmetic Dentistry. In 2014, he became Accredited in the AACD. In his free time, he enjoys time with his family, including his grandchildren. Dr. Karlsten is also fond of skiing and cooking. 
Margarita Aleksanyan, DDS, FAACD
Member since 2015
Margarita Aleksanyan, DDS, FAACD, was born in Armenia and some of her earliest memories involve spending time in her mother's dental office, watching her transform her patient's smiles. Those lessons inspired her to become a dentist and continue to motivate her to this day. Dr. Aleksanyan moved to the United States in 2002, earned her DDS from the University of Colorado, and promptly went into private practice. She owns Guaranteed Smiles and Designer Smiles of Colorado. Dr. Aleksanyan and her husband Chad have been blessed with a beautiful daughter named Lia and she enjoys spending time with her family, cooking, hiking, and biking.
Dr. Karlsten and Dr. Aleksanyan will be honored with their achievement at AACD 2023 Texas this April. Hope to see you there!