By now you've surely heard about the efficacy of social media – that if you aren't on it, you aren't maximizing your ability to connect and engage with current and prospective patients. But once you get all of your social media accounts set up, it can be difficult to figure out what to post. For a cosmetic dentist, the key to a great post is engaging content that will ultimately generate interest in cosmetic procedures and result in new and returning patients. To help you out with this endeavor, the AACD has a number of resources available for you in the Smile Zone.

The Smile Zone is the latest addition to the AACD's consumer website, Your Smile Becomes You. In the Smile Zone there are a variety of modules, from trivia games to quizzes and info graphs, all designed to engage the visitor. In fact, data shows that the average visitor to the Smile Zone is spending 1 minute 16 seconds on the site, which may not seem like a long time, but in the realm of online attention spans, that's FOREVER.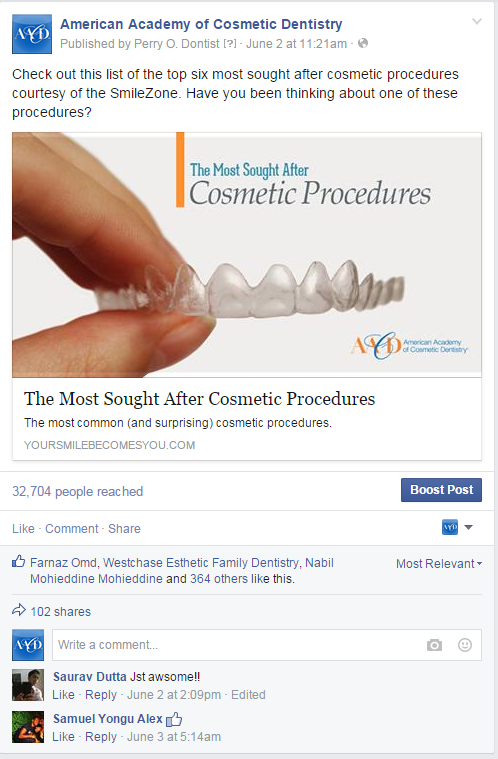 Each module is designed to be shared on social media – by visitors to the site and by YOU! 
You can engage your social media followers and drive them to visit Your Smile Becomes You by posting the Smile Zone content to your social media accounts. Not only will your social media followers have fun learning about their smile personality and discovering if their smile is in danger, but they'll be one click away from information about cosmetic procedures and frequently asked questions. Sharing the Smile Zone content not only gives you something to post or tweet about, but it also is the kind of content that will increase interest in cosmetic procedures and encourage visitors to make an appointment with an AACD dentist.

Recently, the AACD posted the module The Most Sought After Cosmetic Procedures to our Facebook and Twitter pages, and our followers loved it! We reached over 32,000 people on Facebook and over 24,000 people on Twitter. Many of the people reached were through shares and retweets. If you post engaging content your followers like, they'll be more likely to share it with their followers – expanding your reach to even more potential patients.

If you haven't already, head over to the Smile Zone now and spend some time becoming familiar with the content. We hope you think it is a great resource for your social media posts and for increasing consumer awareness of cosmetic dentistry. You might personally enjoy discovering what your smile says about you, but you will professionally enjoy the increased engagement with your social media followers and their increased interest in cosmetic procedures.


 
How to share from the Smile Zone:
Select a module you'd like to share.

Select which social media account you would like to post to from the SHARE buttons in the bottom right corner. Some of the modules require you to complete the quiz or answer a survey question before the SHARE buttons are available.


Personalize your post with a comment, hashtag, or description, and POST!
 

| | | |
| --- | --- | --- |
| | | |
| Posting to Facebook | Posting to Twitter | Posting to Pinterest |