By My Social Practice
A great website is just as important to your cosmetic dental practice marketing efforts as your storefront. It may seem hard to believe, but it is true! In today's world, most patients searching for a new dentist are using online search engines. When a potential patient lands on your website, what kind of experience are you giving them? Potential patients equate the quality of your online presence to the quality and professional care they will experience in your practice.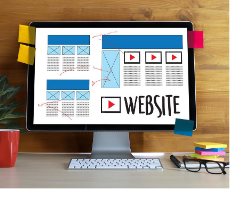 Cosmetic dentists have relied on word-of-mouth marketing to build their practices for a long time. However, word-of-mouth marketing is becoming less and less efficient all the time.
If you are trying to grow your cosmetic dental practice, your dental website is more important than ever to boost that growth. To be successful in today's digital world, you need a smart website and marketing strategy that work together to get you results.
Here are 4 cosmetic dental website MUSTS:
Have A Page For Each Service
You know what treatment and services you offer, but your current and potential patients do not. Ensure that your website has a page for each service that you offer. Include explanations of the service and answer common questions that you get about that particular treatment. Make it easy for patients to understand exactly how you and your team can help them. 
Pro-tip: You'll want to include keywords in your service pages to support your website SEO!
Be Mobile-Optimized
Having a mobile-friendly website is significant to your cosmetic dental website success. The number of patients using their phones to search for cosmetic services and dentists increases every month. 57% of online users say that they will not recommend a business that does not have a mobile-friendly website. 
If you don't have a mobile-friendly website, you can be sure that your cosmetic dental competitors do. Don't let something as easy as a mobile-optimized website keep you from reaching and converting new patients.
Have Clear Calls To Action
What actions do you want your patients to take when they land on your website? Do you want people to read about your practice? Do you want them to make an appointment on a schedule? Whatever your goal is, make sure there is an accessible and obvious button at the top of your homepage that says "Read About Our Practice", "Request an Appointment." or "Give Us A Call!"
If one of your service pages explains your smile makeover treatment options, place a button that asks viewers to "Schedule Smile Makeover Consultation".
The easier you make it for patients to progress from learning about your practice to taking action, the more powerful your marketing will be.
Display Online Reviews
Displaying positive online reviews is one of the most valuable ways to build trust on your website. Why?
Almost 90 percent of customers go to review sites first to decide which business or service to try. Your online reviews create compelling testimonials, promote patient retention, and present your practice with valuable feedback you can use to improve your practice and patient experience.
Of course, your patients will find you on sites like Google and Facebook. However, why have them search for your reviews? Displaying reviews on your website increases the chance that more people will see them.
Whether you don't yet have a website or you're looking to upgrade your current website, My Social Practice provides a simple dental website solution and marketing plan that will make your practice look fantastic online.