Dental SEO Update: Read This If You Want to Rank Higher on Google Maps
Just a few days ago, Google made an announcement. An announcement that they'd been warning us for a while now. The Google My Business app is going away.
Folks, this is a big deal when it comes to dental SEO. Big enough that I recorded a dental SEO update video about it for those of you who hate to read and would rather have this spoon fed to you.
That's not meant to be disparaging. I'd rather be spoon fed as well.
What's Changing for Dental SEO?
The Google map search results are the highest trafficked section on the front page of search, especially for potential patients looking for a local dentist.
It's vitally important that your Google listing information is correct and optimized to show up in the top three listings highlighted on the first page. We all used to update and optimize our business listing through an app called Google My Business. But like I mentioned above, Google is phasing the GMB app out.
If you are one of those super savvy dental marketing geeks, then you probably downloaded the Google My Business app to your phone.
Well… if you open the app up now, this is what you'll see: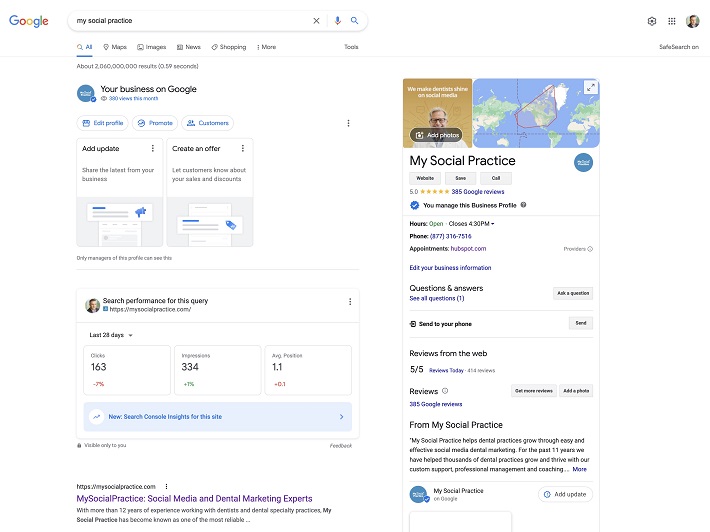 Bummer, right?
Actually, not a bummer. Let me explain.
How To Update Your 'Google Business Profile'
That's right! They've changed the name of your Google listing again. It's now called your Google Business Profile. Moving forward, you can update your Google Business Profile directly on search or using the Google Maps application.
How to update your Google Business Profile on search
All you have to do is go to Google and search the name of your dental practice while logged into a Google account that is either the owner of the profile or a manager. The critical issue is that you must be logged into the correct account.
I'll elaborate…
Below is a screenshot of my search result while not logged into a Google account that is an owner or manager of My Social Practice.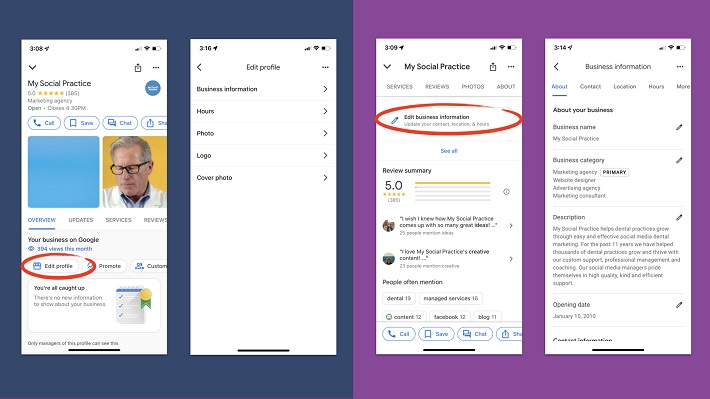 Now, look at the search difference when I'm logged into a Google account that is an owner or manager of My Social Practice.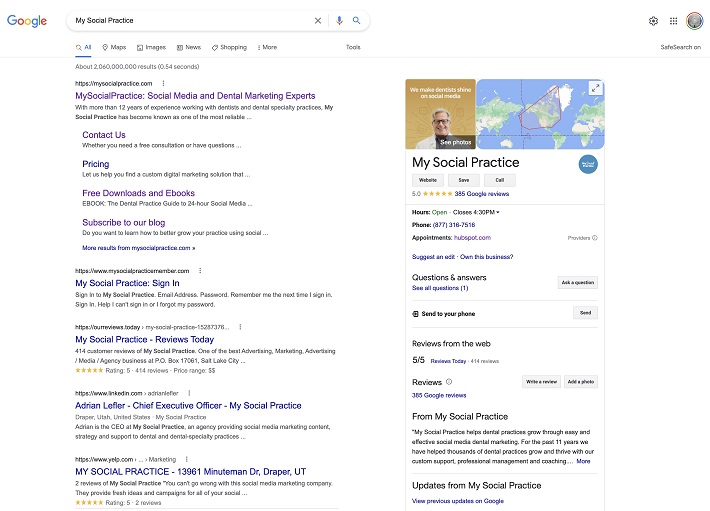 When logged in, I can edit my listing right from the search results. Pretty cool, huh?
No one else sees this editing section except those persons logged into the correct Google account.
How to update your Google Business Profile on a mobile device
On mobile, you can update your listing using the Google Maps application. The same situation goes for editing on a desktop. If you're logged into a Google account that is an owner or manager, you'll be able to edit your profile from Maps.
The first image below is what the My Social Practice listing looked like when I searched for it using Google Maps. Notice the 'edit profile' button. When you click on that, you can update your Business information, hours, photos, logo, and cover photo.
If you scroll down a bit on the listing, you see an 'Edit business information' section that allows you to update or change everything else in your profile.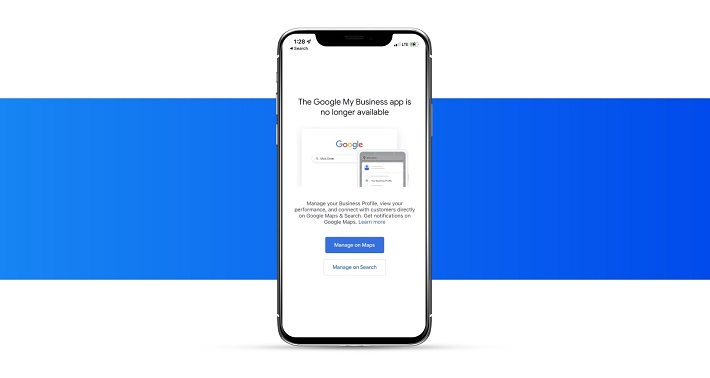 How Will This Update Help You Rank Higher On Google Maps?
It won't unless you use it. But now that it is so simple, you should be able to quickly do some of your dental SEO and begin improving your rankings.
The Google map search rankings are positively affected by updating your profile information regularly. I would strongly recommend doing the following:
Add a few photos each week.
Post at least twice a month.
Update your services and add descriptions.
Add the maximum number of service areas. Before you add your service areas, you'll want to run a Google maps ranking report and follow the instructions on choosing your areas in this dental SEO training.
Acquiring at least one review per day by sending review requests.
Set up text notifications so that when a new review comes in you'll be notified and you can respond. And respond to all reviews.
Update insurance information if you accept insurance.
If you're not familiar with these tasks, watch this recorded dental SEO webinar which will walk you through how to begin optimizing your profile.
Conclusion
It's now easier than ever to update and optimize your Google Business Profile. There are more local patients than you think; checking out your Google Business Profile before calling to schedule an appointment.
The dental industry is heavily reliant on referrals. Because your Google reviews are attached to your Google Business Profile, whether you like it or not, most potential patients are going to look at your profile. Make sure that it's exceptional with current information, great photography, and optimization so that you can be found easily.