How Do People Find Your Cosmetic Dental Practice Online? What are the secrets of Google My Business? How do I get my practice's website on the first page of Google? Cosmetic dentists often ask these questions to increase their online presence. 
This guide contains valuable information, videos, tips, strategies, and direction on how to improve your online cosmetic dentist SEO strategies.  No reason to delay, let's do this.
What is Google My Business (GMB)?
Let's start at the very beginning, shall we? Your Google My Business (GMB) listing is the business database for Google. So if someone wants to find a cosmetic dentist in Dallas, there are two ways of doing it: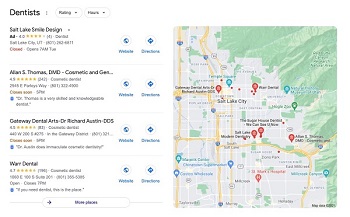 Indirect search (discovery search): A customer searches for a category, product, or service offered—for example, 'cosmetic dentists in Dallas.' Your listing appears with several others on the Google map section of the search results. The graphic below is a search result for 'Salt Lake City cosmetic dentist.'
 
Direct search: A customer directly searches for your business name, for example, 'Gateway Dental Arts - Dr. Richard Austin.' (See graphic below). Your Google My Business knowledge graph appears on the right side of the search results page. Notice that there isn't a Google map with competitor listings when someone does a direct search.
The knowledge graph pops up with images of your practice, a map, your website address, and important information about your practice. This knowledge graph is considered a mini-website full of essential information for potential patients.  
Patients use the knowledge graph to learn more about you. Some patients will call you directly from the knowledge graph rather than clicking through to your website. All of the information a patient needs is listed on the knowledge graph.
Why Should I Care About Local Dentist SEO?
Around ninety percent of all online searches are through Google. Consumer research shows that Google Maps is trusted and preferred by 68% of consumers. This means that people searching for a local dentist will favor the Google map listings over Google ads and organic website results. It's more crucial than ever to ensure your Google Maps Business listing is fully optimized to maximize your dental SEO.
In addition to consumer trust, searches in location apps like Google Maps and Apple maps are growing 50% faster than mobile browser searches. The upshot is that your GMB rankings in the Google map are more important than your organic website results below the map. 
If you're curious about your rankings on the Google map, use this complimentary Google maps ranking report.
What's The Goal of Local Dental SEO?
The ultimate goal of local dentist SEO is to show up on the Google Map 3-Pack. These are the three listings in the Google map on the first page of search results. 92% of people searching on Google do not click to the second page of search results. If your practice GMB account is ranking within the Google map 3-Pack, you'll get many more new patient phone calls. 
So What Determines My Local SEO Rankings?
The three things that search engines look at to decide how well you rank in maps are:
Relevance - how well a local business profile matches what a person is searching. 
Distance - how far each potential search result is from the location term used in a search. 
Prominence - Google's information about your business from across the web (links, articles, directories, and ratings. 
How do I Improve Local SEO Rankings?
We have compiled a list of ten tips to help you with local SEO for dentists. These tips will help you get increased visibility, engagement, and the revenue that comes along with more new patient phone calls.
#1 Get Started By Claiming and Verifying Your Listing
The first step in getting your practice to rank higher on Google Maps is to claim and verify your listing. Once you've claimed and verified your listing, you can update your name, address, phone, primary category, services, and a host of additional information. The more information you add to your GMB account, the higher the opportunity to rank on Google Maps. 
Adrian Lefler from My Social Practice recently created a short video to show you how to find your GMB listing and claim it. You can check it out here.
#2 The Info Tab Is Where Local SEO Begins 
Practices with complete and accurate information are easier to match with the patient searches. Once you have access to your account, fill out as much information accurately as possible. Below is a recorded local dental SEO training video that walks you through all the steps discussed in this article. 
#3 Your Primary Category Is Super Important  
People will search for your practices using different titles or terms. So, the category of your business as it appears on Google maps is very important. We recommend adding one primary category and no more than two secondary categories. 
Below is a short video that will help you find your categories and update them.
#4 Service Areas Help You Rank In A Wider Radius
Broadening your service areas is simple, but we've found that most cosmetic practices haven't done it. Many dentists only list the city where their practice is located, but Google gives you the ability to add up to 20 service areas. If a patient searches' cosmetic dentist in Fort Lauderdale' and you have Fort Lauderdale as one of your service areas, you're more likely to show up in the Google map for that phrase.
But this does not mean that you can just start listing every big city near you in hopes of ranking in the most significant, more competitive areas. In general, the best thing to do is take a radius of approximately three to five miles from your practice, find neighborhoods and areas within that range that you'd like to rank in, and list them in the service areas section. 
PRO TIP: Before you get started choosing your service areas you should probably find out which areas you're already ranking well in. You can do that by running a Dental SEO Google Ranking Report.
#5 Add As Many Services As You Can!
Dental patients search using lots of different keywords. They may search phrases like 'dentists near me' or 'cosmetic dentists near me,' but you'll also find that people search for service related phrases like,  'dental crowns near me' or 'veneers near me'. 
Studies have shown that potential patients are becoming more educated on dental services and are searching directly for those services. Adding services to your GMB account is vital to show up for these search phrases. 
There is no limit to the number of services that you can list. At least not from what we've found. When we perform local search for dentists we regularly enter more than fifty different services. Google allows you to add a 300 character description for each service. Make sure to use all your characters. Also, customize the descriptions with local SEO keywords, such as your service areas. 
#6 Add Photos and Videos
First impressions matter. Show who you are with a wide variety of photos and videos. Great photography is your first and maybe only opportunity to show potential patients who you are and what you're like. 
Uploaded photos are found in local SEO results. Post as many pictures as you like, but the two most important images are, cover photo and your practice logo. If you do not choose these photos, Google will pick a random photo for you. 
Download this complimentary GMB Photo Checklist. The checklist will help you know which photos to upload and where they show up in your GMB account. 
#7 That's Right! You Can Post To Your GMB Account 
Google's ranking formula demands that businesses regularly engage with their customers via content marketing. Posting to your GMB is a great way to create engagement and let Google know that you care about your listing. 
Posting is not much different from posting on Facebook and Instagram. Just as you can post a blog on your website, you can post information, photos, and educational information on your GMB account. We recommend that you post at least 2-4 times per month. The more posting, the better. 
Your posts will show up in your knowledge graph.
#8 Acquire and Respond to Reviews
High-quality 5-star reviews can improve your practice's visibility and increase the likelihood that new patients will call. A survey done by Iron Monk asked, 'Which dentist would you most likely pick from a google search?" Here is how the results were broken down:
43.3% best online reviews 
19.4% closest to me 
18.4% top-ranked
14.4% cheapest 
4.5% best web design 
In short, most people are looking for practices with tons of great reviews, and Google My Business is where those reviews are hosted. Remember that patients find you based upon your rankings, but they choose you based on your reviews. 
So how do you get new Google reviews? The onus is on you and your team. If you don't A-S-K, you won't G-E-T. The best way is to ask patients for a review while they're still in your practice. Patients live busy lives, and many of our internal studies show that they forget the moment they walk out the door.
Once you've received a review it's imperative to reply to each review within 24 - 48 hours, whether positive or negative. Reply and thank them for the review, or respond to their concern as quickly as possible. 
PRO TIP: You can set up a notification in your GMB account to text you when you receive a new Google review, allowing you to respond immediately. It's a super easy way to stay on top of review responses.
#9 What In The World Is The Google My Business Website?
Google allows businesses to set up a GMB website from inside of their listing. GMB websites are pretty new. Don't worry if you already have a dental website, as you can add a Google website right alongside it, and it will help your listing to rank higher. 
The GMB website design has a few options, such as scheduling appointments directly from the site. The website will pull in all posts and reviews on your GMB listing, along with your practice description, photos and posts. It automatically has all the information you've already added and organizes it nicely. 
You might not direct many people to this site, but it is an additional citation that can help you rank in your local area. As mentioned before, any suggestion Google makes can significantly help improve your ranking.
#10 Get Some Help from Dental Marketing Companies 
The last nine dental SEO tips are essential, but there are hundreds of additional tasks to optimize your listing. If this all seems a little too overwhelming, don't fear, My Social Practice has dental SEO experts ready and waiting to help. The better your online presence, the higher you climb in the search results. 
Adrian Lefler is the vice president of My Social Practice, where he manages the dental marketing team. If you would like to book Lefler to speak at your event, you can do so on the company's dental marketing expert page.