As a cosmetic dentist, it's essential that your practice is visible online and easily accessible to potential aesthetic patients. Many dentists do not understand why their business is not showing up on Google Maps. Yet, they do know that ranking well on Google Maps will significantly increase their new patient inflow.
This post provides an overview of strategies to improve your Google Maps ranking for cosmetic dentistry services for procedures like veneers, smile makeovers, teeth whitening, crowns, and more.
How Well Are You Ranking For "Cosmetic Dentist"
The first thing you need to know before you begin optimizing your Google Business Profile is to see where you're already ranking. You can do this by running a Google Maps Ranking Report.
A Google Maps report will create a colored Google Maps grid that looks something like this: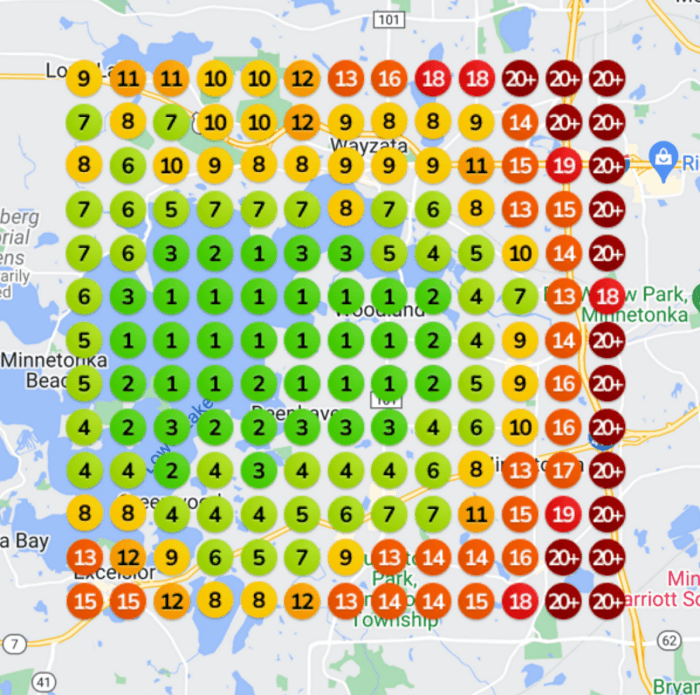 Let me explain the image above. Rankings on Google Maps are location-based. Depending on where the person is standing (their latitude and longitude), they'll get different results. A person one mile east of your practice will get different results than a person that is one mile west.
Each one of the colored dots is a search from that latitude and longitude. The number on the circle is where your practice is on Google Maps. A number one means you're at the top of Google Maps. There are only three listings on the first page of search results, and that's what you should be shooting for. For a more in-depth explanation, watch this quick video.
Once you understand how well (or not) you're already around your town for the keyword "cosmetic dentist," you'll better understand how to follow the instructions in this post.
Update Your Categories in Google Business Profile (GBP)
The first step is to ensure that your Google Business Profile (GBP) primary category reflects the type of patients you want to attract.
Google provides an approved list of categories; you have primary and secondary categories. I would recommend having no more than 1-2 secondary categories.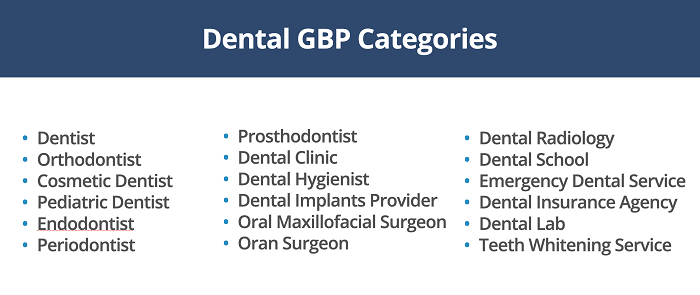 You'll show up on Google Maps stronger for your primary category. If you set your primary category as "cosmetic dentist," you'll rank better for that keyword and cosmetic services.
A word of caution on using 'cosmetic dentist' as your primary category. The total USA monthly search volume for the keyword "cosmetic dentist En" is 9,900, whereas people searching "dentist near me" is 1,220,000. Many people searching for cosmetic dental services don't use "cosmetic" in their search phrases.
Suppose you use Cosmetic Dentist as your primary category. In that case, you'll be attracting a specific type of patient, but you'll be passing up on a lot of search volume.
If I were a cosmetic dentist and needed more patients, and it didn't matter what kind of patients, I would use "Dentist" as my primary category. But if my schedule is full and I want more cosmetic patients, I would use "Cosmetic Dentist" as my primary category.
There are a few of you reading this that aren't sure how to find your GBP listing to check your primary category. I created a dental SEO training video and blog post to show you how to find your listing.
Add Twenty Locations You Want To Attract Patients From
Google knows that you attract patients from all over so they allow you to add up to 20 locations in your GBP. It's super simple to add the locations. All you do is start typing in the location, and the name will pop up.
When choosing your locations, use the Google Maps Ranking Report. When you begin to drop to position 4, 5, 6, and up, you're dropping off the front page. These are the areas that you want to include in your locations. By doing this, you're encouraging Google to expand the area where you're found on the first page of the map.
List As Many Cosmetic Dentistry Services As You Can
There is a section where you can add services. It's different from your primary and secondary categories and it's a great way to optimize your listing for specific search phrases. There is no limit to the number of services you add, so add as many as you can.
The services section is not seen by anyone other than you and Google. Google uses the services as relevant information and considers it when someone searches for a cosmetic dentistry phrase.
For example, if a potential patient searches for "veneers near me" and you don't have "veneers" listed in your services section, you may not appear on the map.
So make sure to add service titles and descriptions for any search phrase related to cosmetic dentistry. For additional help, watch this dentist SEO webinar recording, which reviews the top ten first steps to optimizing your listing.
Write A Cosmetic Dentistry Website Page
Your GBP listing is linked to your website, and Google looks at your website content to help rank your GBP. A dedicated service page on your website for cosmetic dentistry is essential for optimization.
Here are a few tips to take into consideration:
The page needs to be original content (custom) and should cover or answer the following topics:
Detailed information about the procedures: Explain your cosmetic dental procedures, from consultation to post-operative care. This helps potential patients understand what to expect and builds trust in your expertise. You'll also want to link from your main cosmetic dentistry page to specific service pages.
Benefits of cosmetic dentistry: Highlight the advantages of cosmetic dental treatments, such as improved appearance, confidence, and oral health.
Before and after images or case studies: Showcase your successful cosmetic dentistry cases with high-quality images or case studies. This provides social proof of your cosmetic dentistry skills.
Patient Testimonials: Include positive reviews from satisfied cosmetic dentistry patients to further demonstrate your services' quality. HIPAA-compliant regulations clearly state that you need a signed HIPAA consent to display a review on your site. Here is a complimentary downloadable HIPAA consent form to use.
Pricing and financing options: Clearly outline the cost of cosmetic dental treatments at your practice and any available financing options. Price transparency helps potential patients make informed decisions and reduces the likelihood of surprises.
Add an FAQ section to answer typical questions that your patients would ask and questions that people may ask in search. Here is an example of a service page for a cosmetic dentist in Henderson, NV that is written and structured well.
Optimizing Your Cosmetic Dentistry Service Page
Keyword research and usage: Identify relevant keywords related to cosmetic dentistry and incorporate them into your service page's content, headings, and metadata. This simple SEO copywriting tactic will improve your page's visibility on search engines.
Consider all the search phrases someone would use to find a cosmetic dentist and include them in your copy on the page. Not everyone searches for "cosmetic dentist near me." Some people will search for "the best dentist for smile makeovers."
Add a blog to your site and write articles that link to your service page. This is a fundamental linking strategy.
Internal and external linking: Link to other relevant pages within your website, such as blog posts about cosmetic dentistry or related procedures. As an example here is a blog post about dental social media marketing. Notice in the second paragraph I've linked dental social media to the service page on our website.
You're doing the same thing. Write an article or a story about the benefits of cosmetic dentistry and link to your cosmetic dentistry service page. 
Link to reputable external sources: Do a quick search for "cosmetic dentistry in [city, state]" and see which websites appear at the top of the search results. Find a website that is not a competitor and link to it.
I just did a search for "cosmetic dentistry" and the first website that showed up in the search was a website page from the AACD. The fact that the AACD website is ranking high in search is an indication of its search strength. By linking to it you increase the value of the content on your page.
URL structure and metadata: Optimize your URL structure for your cosmetic dentistry page so that it looks like this (e.g., yourwebsite.com/cosmetic-dentistry) and ensure that your metadata (title tags, meta descriptions, and image alt tags) accurately reflects your service page's content.
If you're unfamiliar with metadata, you can send a message to your website provider, who should be able to help. If they can't, we're happy to help by performing a technical SEO analysis of your site, which will identify any problems.
Modern and built technically correct: Beyond your website looking great, it needs to perform technically well, or your rankings will be punished. A recent article in Dental Economics talks about the technical issues of a dental website.
Additional Tips for Improving Your Google Maps Ranking
Encourage patients to leave reviews on Google: Positive reviews improve your reputation but they are not the end-all-be-all of ranking. We've estimated that it's about 3% - 5% of the ranking factor.
To back up this claim, we analyzed how well practices ranked on the map while considering the total number of reviews. In the local dental SEO report we included almost 30,000 dental practices. We found no strong correlation between ranking and the total number of reviews. We also found no correlation between ranking and how many reviews a practice received over the past month. Reviews are critical, but they don't greatly impact how well you rank.
Regularly update your GBP with fresh content and images: Most people are unfamiliar, but Google allows you to post articles and updates to your GBP account. Regular posts signal to Google that your practice is active and relevant, which can positively impact your ranking.
Increase Inbound Local Links through guest blog posting: Write an article for a local business or a colleague. In the article, link "cosmetic dentistry" to your cosmetic dentistry service page.
For example, this article is a guest blog post for the AACD. I want to rank higher for the keyword dental marketing company. Notice that the link I just put in there goes to www.https://mysocialpractice.com. I did this because I want my home page to rank for the keyword "dental marketing company." You're doing the same thing but for the keyword "cosmetic dentist."
Monitor and respond to reviews and questions on Google Maps: Engaging with patients who leave reviews or ask questions demonstrates that you value their feedback and are attentive to their needs.
To stay HIPAA compliant, do not speak directly about the patient when you respond to reviews. Even though the patient is the one that left the review, dental HIPAA compliance regulations clearly state that you should not confirm in any way that they are a patient.
Conclusion
Attracting more cosmetic dentistry patients to your practice is possible by optimizing your online presence and ranking higher on Google Maps. Updating your GBP categories, listing all your locations, adding cosmetic dentistry as a service, and creating a dedicated service page on your dental website are crucial steps in this process.
By following these steps and best practices, you can better position your practice to attract local aesthetic patients and those seeking procedures like veneers, smile makeovers, teeth whitening, crowns, and more. This will ultimately help grow your practice and expand your presence in the competitive cosmetic dentistry market.